Bluetooth Fingertip Pulse Oximeter Suitable for infant ,kids and Adult
Product Detail
Product Tags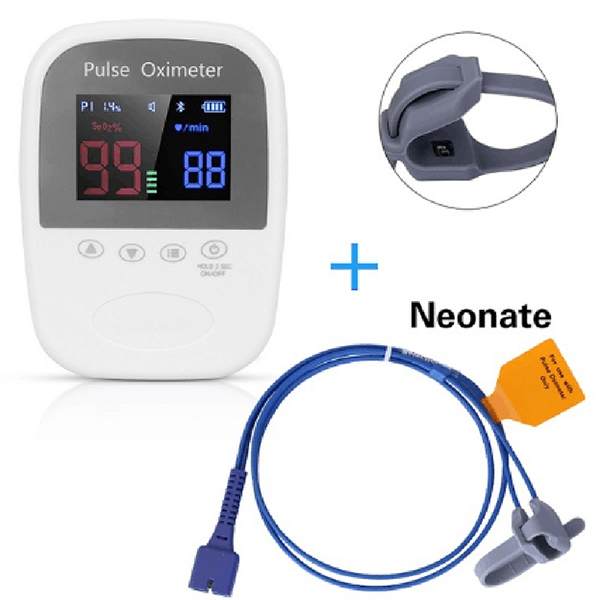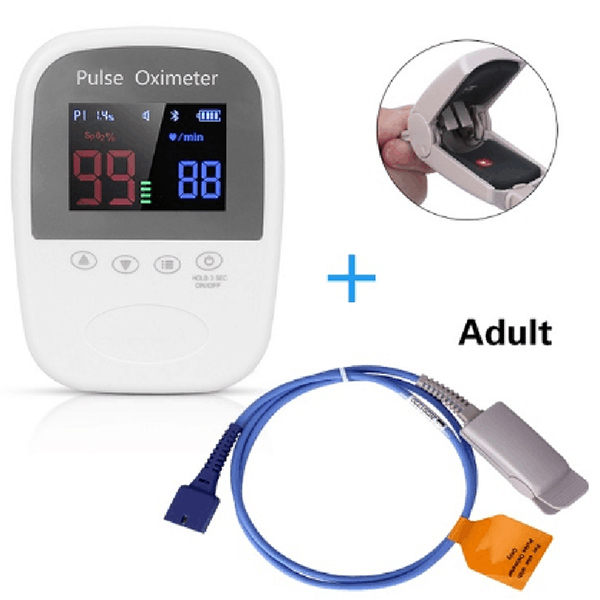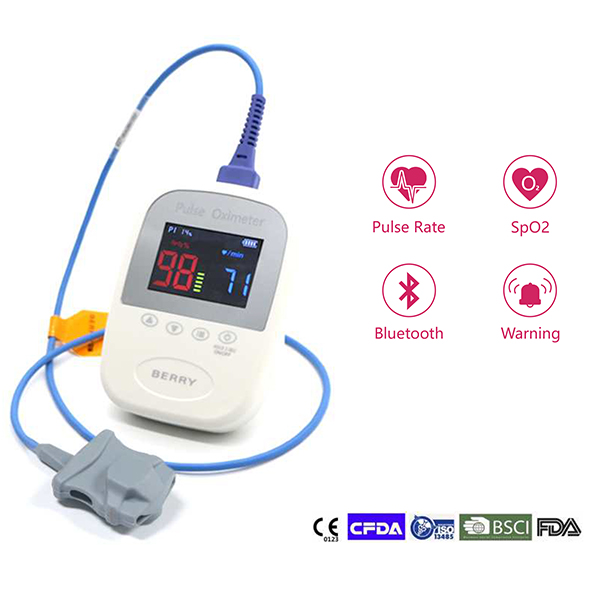 Pulse Oximeter Description
Fingertip Pulse Oximeter is an important and common device to check oxygen saturation (SpO2) and pulse rate.
It's a small, compact, simple, reliable and durable physiological, it includes monitoring device, include the main board, Spo2 sensor, LCD display and dry batteries. It is suitable for monitoring adults and children.
Pulse Oximeter Feature
➤Simple and conveinient to operate
➤Portable, easy to carry.
➤Power-efficient, 2 x AA batteries can continuously work for 14 hours at least.
➤Intelligent reminding function: buzzer reminding when the value exceeds the normal range and low voltage reminding when there's low power.
➤Durability, no need do daily maintenance except changing the batteries.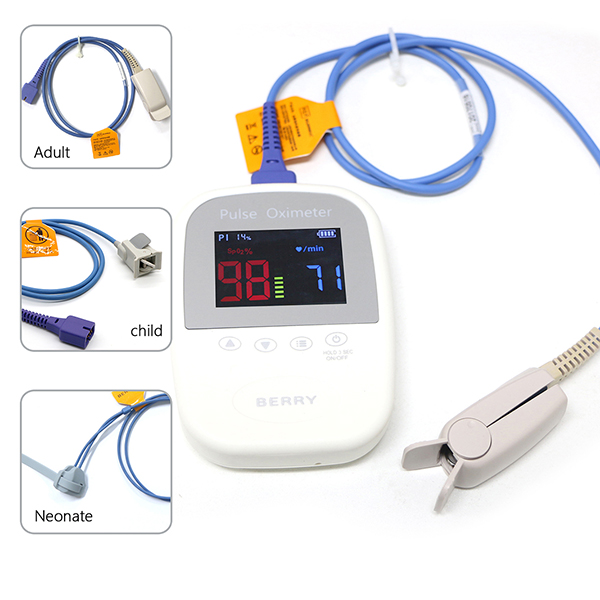 Pulse Oximeter Specification
Operation System

IOS; Android

Size

 

150(H) × 90 (W) × 26(D)mm

Material

ABS Plastic Material

Operation Environment

 

Temperature: 5℃ - 40℃

Relative humidity: 15% - 80%

Air pressure: 860hPa - 1060hPa

APP

 

IOS:Search "Oxycare" or "SpO2"

Android:Search "SpO2 2.0" or "Oxycare"

Display

 

LCD

SpO2

Detection scope: 35%-100%

Accuracy: ±2% 80%-100%

±3% 70%-79%

Pulse Rate

 

Rage:25-250BPM

Accuracy:±2bpm

Resolution:1bpm

Bluetooth

 

Bluetooth BLE

Battery Type

 

2 AA alkaline batteries

Warranty

 

1 Year

Working voltage

 

D.C.2.32-D.C.3.4V

Certification

FDA.CE

Delivery

Consult us
Pulse Oximeter Usage
It can be used in the hospital's operation room, ICU, clinic section office, out-patient department, sickroom and emergency treatment. It can also be used in the recovery and health care organizations, the community medical treatments, the oxygen bars, the family nursing.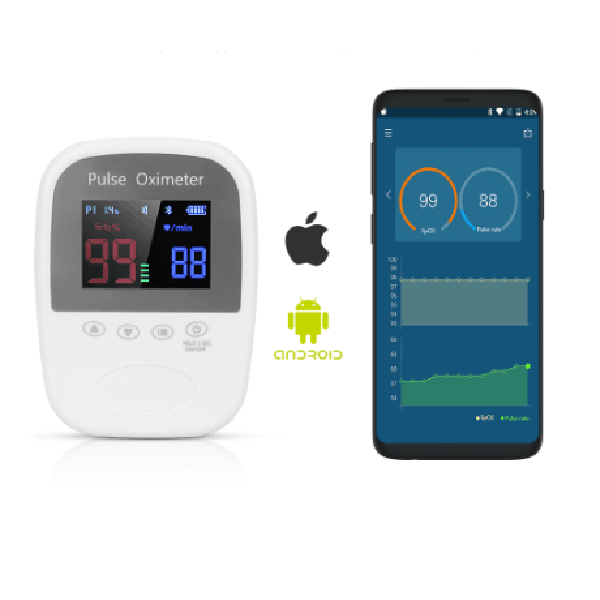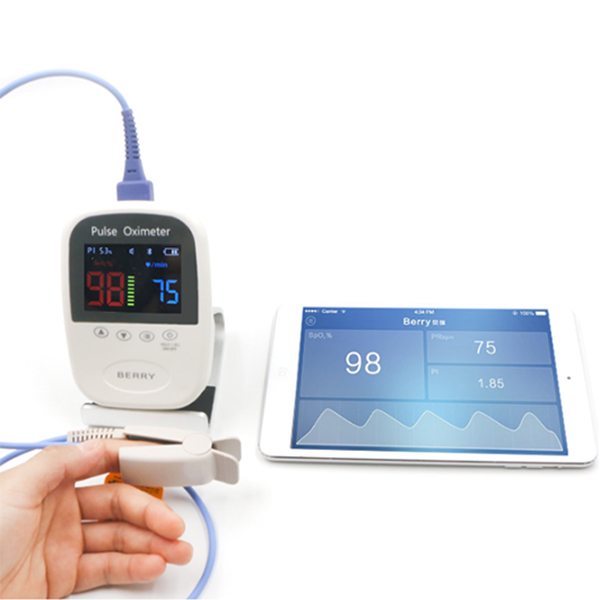 Frequently Asked Questions
➤Pulse oximeter is to measure blood oxygen saturation or arterial hemoglobin saturation by finger clip.
➤Oxygen saturation is very important physiological parameter of human body.
➤Pulse oximeter can also detect arterial pulsation, then calculate the patient's heart rate.
➤The oximeter has a light source that emits light at two wavelengths. HbO2 and Hb have different absorbances for these two wavelengths.
➤When the artery beats, the blood volume can change and emerge a certain waveform. The oxygen oximeter calculates SpO2 based on the waveform and absorption rate. 
➤During measuring, be sure to choose thin soft tissue parts or rich of arterial blood flow, such as hands, toes, and earlobe.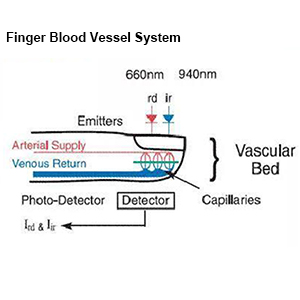 ➤Blood perfusion index is an index for the accuracy of SPO2 measuring results.
➤The blood perfusion index is calculated based on the pulsation waveform which reflects the blood perfusion at the measurement point.
➤The higher the PI measured at the measurement point, the more accurate the SpO2 measured.
➤The accuracy of the oximeter is affected by many factors, such as motion interference (finger shake, etc.), ambient light and optical detection circuit.
➤Wait for several seconds until the pulse waveform to stabilize before the reading.
➤oxygen is within 70%-100%, he accuracy reach ±2%~±3%.
➤ When SpO2 is as low as 50%,  the accuracy is about ±10%
The Products Are Available online Sales from ONE Pieces
Welcome to order pulse oximeter for infant, kids and adult.
---
Previous:
WENSUIJIA Veterinary Monitor for Pet, Monitoring 6 Parameter for Animal (include Dogs and Cats) as Clinical Equipment
Next:
Fingertip Pulse Oximeter Blood Oxygen SpO2 Saturation Sports and Bluetooth Fingertip Monitor with LCD Reversible Display and Lanyard
---