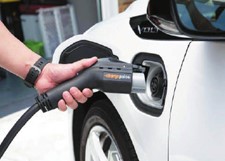 Recently, the Indonesian Cabinet Secretariat issued a statement saying that Indonesian President Zoco Widodo signed a new decree to provide policy support for the development of the country's electric vehicle industry. In the statement, the Indonesian Cabinet Secretariat quoted Zoco as saying that the country will regard electric vehicles as a priority development industry and plans to introduce relevant business strategies; Indonesia has abundant resources such as cobalt and manganese for the production of electric vehicle batteries. Conducive to the manufacture of low-cost, competitive electric vehicles. At the same time, Zoke also hopes to address the air pollution problem in the big cities of the country by developing electric vehicles.
Indonesia's goal is to become an electric vehicle manufacturing center in Southeast Asia. The country plans to start mass production of electric vehicles in 2022. By 2025, electric vehicle production will account for 20% of the country's total vehicle production.
■ Follow the electrification "main rise"
As the largest economy in Southeast Asia, Indonesia's domestic new car sales reached 1.151 million in 2018, making it the largest automotive market in the ASEAN region for five consecutive years. At present, electrification has become one of the "main waves" of the global auto industry, and Indonesia wants to keep up with this trend.
At the current stage, the development of the electric vehicle industry in various countries relies heavily on government support, and the Indonesian government clearly understands this. Zoco did not elaborate on the content of the decree, but according to a draft, the new decree contains a series of incentives, including reducing import tariffs on equipment and materials for automakers, reducing consumer luxury taxes, etc. Production and consumption of automobiles.
Zoko also said that municipalities across Indonesia could consider introducing more incentives, such as electric vehicles, to avoid parking fees and other administrative expenses, to further encourage private consumers and public transport operators to use electric vehicles.
The Indonesian government's Metals, Machinery, Transportation and Electronics Division, Ha Jinto, said that the Indonesian government will soon complete the revision of the luxury car taxation plan to encourage the production of cars with lower carbon emissions, while also upgrading traditional fuel vehicles. The cost of car ownership. In addition, the Indonesian government plans to provide tax reduction policies to battery manufacturers and automakers, and to sign preferential tariff agreements with other countries with high demand for electric vehicles. "The lower the carbon emissions of cars, the lower the taxes and fees levied," Harkinto said.
■ Mineral resources to do a solid backing
One of Indonesia's efforts to promote the electric vehicle industry lies in its rich mineral resources. In a statement, Zoco said that the key to the development of the electric vehicle industry lies in the power of batteries and the production of raw materials such as cobalt and manganese for power batteries. Indonesia, as a country rich in mineral resources, has been seeking to supply laterite nickel ore. Further develop downstream industries.
It is understood that the global nickel resource reserves are very rich, nickel ore can be divided into laterite nickel ore and nickel sulfide ore. Laterite nickel ore is commonly used in the production of lithium batteries, mainly in tropical countries within the Tropic of Cancer, mainly Cuba, Brazil, Indonesia, the Philippines, Australia and so on. Before Indonesia banned the export of laterite nickel ore in 2014, Indonesia exported a large amount of laterite nickel ore and even over-exploitation. In 2013, it reached the peak of export volume, exceeding 60 million tons. In 2014~2016, there was almost no export. In 2017, the export was released. , but there are export quota restrictions.
"We have the advantage of raw materials and can produce relatively less expensive electric vehicles, forming a more advantageous industrial chain," said Zoco. He added that the formation of such an industry is not something that can be done in a year or two, so it is necessary to cultivate and form a new market segment at the same time.
Hakinto also said: "Daily has great potential in developing electric vehicles due to the abundant supply of raw materials." He also said that he hopes to boost the country's weak auto exports by improving Indonesia's electric vehicle industry chain.
However, some industry analysts are cautious about the rapid development of the Indonesian electric vehicle industry, because lithium battery projects require complex nickel smelting technology. Fortunately, some companies have developed high-pressure acid leaching (HPAL) technology in Indonesia and are producing chemicals for batteries locally, such as China's Qingshan Group.
■Policy "red envelope" to lure car companies
Indonesian Minister of Industry Elanka Hatato said that Indonesia plans to start producing electric cars in 2022. Under the invitation and negotiation of the Indonesian government, many car companies have revealed plans to invest in the country.
At the end of June this year, at the meeting held in Osaka, Japan, Indonesian Minister of Ocean Affairs Coordinator Luhut Panchadan and Toyota President Akio Toyoda reached an investment development agreement. Toyota plans to invest 2 billion U.S. dollars in Indonesia in the next 4 years. Development of electric vehicles. In a statement, Akio Toyoda said that from 2019 to 2023, Toyota will gradually increase its investment in electric vehicles. The Indonesian government has developed an electric vehicle development plan, so the company regards it as a major investment destination for electric vehicles. Toyota will follow the Indonesian government's electric vehicle program, invest in phases, and take the development of hybrid vehicles as the first step.
Hyundai Motor has also developed an investment plan in Indonesia. At the end of last month, Zorco met with several executives of Hyundai Motor Group to discuss the group's investment plans in Indonesia. Zheng Yixuan, vice chairman of Hyundai Motor Group, said: "We plan to develop electric vehicles in Indonesia. Before we produce cars, we will determine the direction of the Indonesian auto market. Our initial plan is to produce 40% of the electric vehicles for export markets. In the future, this ratio will be raised to 70%." Hatato also confirmed that Hyundai Motor Group is inspecting the location of the factory in Indonesia. "Tax concessions and tax exemptions are under discussion."
Production of electric vehicles, power batteries are indispensable. In July this year, Pan Chadan revealed that a number of vehicle and battery manufacturers planned to build a battery factory in the Morovali Industrial Park in central Sulawesi, Indonesia. Tesla was one of the participants, Ningde era and LG. Chemistry will also be stationed. It is understood that Sulawesi is a large island in central Indonesia, accounting for 70% to 80% of the entire Indonesian nickel resources. A local official said that the details are still being finalized. If it really breaks ground, Tesla's battery factory in Indonesia will be completed within three years. Tesla has expressed interest in developing and producing batteries. According to informed sources, the company is developing batteries in the laboratory to seek to reduce its reliance on Panasonic.
For car manufacturers and battery manufacturers, Indonesia is a market with great potential. At the same time, the Indonesian government also hopes to attract companies to invest in the country through various incentive policies to create new industries while reducing dependence on imported oil.
---
Post time: Aug-26-2019