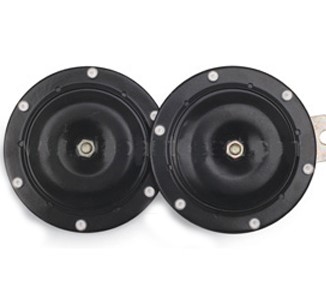 Car horns manufactured by GCT
The "horn" in any motor vehicle is a mandatory component required by law.
It serves as an audible warning to alert pedestrians and other vehicles of an impending collision. It is also frequently used to "cuss" and "swear" at other drivers.
In the early days, the car horn was essentially a trumpet with a rubber air bladder. The driver had to squeeze it to produce the sound.
Air pumped through the divergent metal tube created a loud enough blast, warning pedestrians around the approaching vehicle.
HOW DO THEY WORK?
Car horns work on the principle of a vibrating metal diaphragm. They are all electrically driven and consist of a solenoid (electromagnet) and a thin metal disc made of spring steel.
When energised, the solenoid exerts a magnetic force on the disc, causing it to flex concentrically. The flexing of the diaphragm moves apart the electrical contacts, thus de-energising the solenoid.
Once the disc springs back into its original shape, the electrical contacts close once again allowing current flow into the solenoid. The whole cycle is repeated for as long as the horn button is depressed.
The flexing and de-flexing of the steel diaphragm in car horns happens faster than the eye can detect. However, the resulting vibrations produce noise we can hear.
And if you touch the horn when it is working (remember to put on ear-plugs), you can feel the vibrations.
Electric horns can also be sized for different decibel and pitch levels. These depend on the diameter of the vibrating disc, the spring stiffness and the distance of the disc's movement.
A single horn, such as the ones used in motorcycles and small cars, produce a high-pitched sound.
Many cars are fitted with what we call "two-tone" car horns. As the name implies, there are two units, each with a different tone to produce a slightly lower combined pitch but at a higher noise level.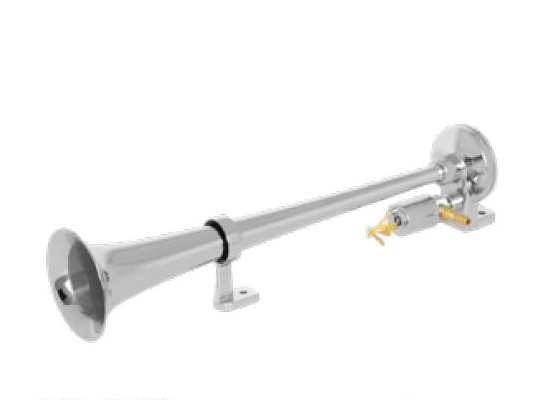 Air horns are required for vehicles on construction sites and ships. They are illegal on road-going cars.
OTHER USES FOR CAR HORNS
Besides functioning as a warning, car horns are also used as an indicator when locking the car using a remote control.
Often, the central locking system uses only the softer horn. Alarm systems usually use both car horns as a deterrent and a cry for help during a break-in.
Considering its size and the fervent activity that goes on inside, the electric car horns' record of durability and longevity is truly remarkable.
This is perhaps the reason why it has not been replaced by some solid-state electronic audio device.
---
Post time: Jan-12-2022