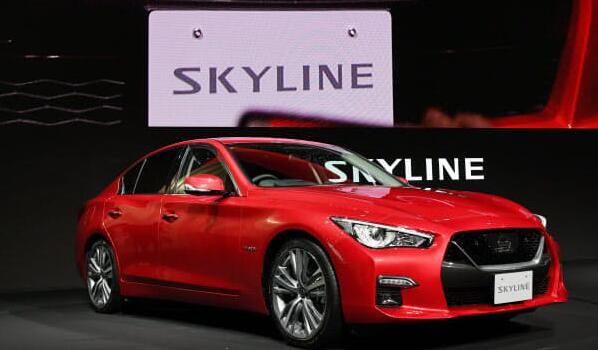 [Global Network Report reporter Wang Huan] According to "Nihon Keizai Shimbun" reported on July 16, Nissan Motor announced on July 16 that it will greatly improve the high-end car "SKYLINE" and will be listed in September. The new car adopts the latest Japanese technology such as car navigation and automatic driving linkage. After the arrest of former president Carlos Ghosn, this is the first time Nissan has released a new passenger car in Japan. The company strives to rebuild its brand image that is good at "advanced technology" by improving its signature model with a history of about 60 years.
Nissan released a new car at its headquarters in Yokohama on the 16th. Since its launch in SKYLINE in 1957, the company has been the first strategic vehicle to carry cutting-edge technology. Nisano, the vice president of Nissan, who is responsible for the Japanese business, said, "All the technologies are gathered on the models that symbolize Nissan. This is the answer to our Nissan."
The new SKYLINE uses the same chassis as the current model launched in 2014, but the design has changed significantly. The logo was also changed from "Infiniti" to "Nissan (NISSAN)".
In terms of autonomous driving, the car uses the latest technology in Japan. On the highway, along the previously entered route, the car can basically automatically change lanes, cope with roads and exits. The car can make recommendations at the right time and switch to the automatic driving mode with a simple button operation. When the driver can immediately operate the steering wheel, on the same lane of the highway, it is possible to drive and overtake.
Considering the increase in older drivers, the new car also introduced the "Follow" feature of driving for the first time. If the set speed limit and area are exceeded, a notification will be sent to the mobile phone, etc. With the improvement of communication functions, automatic updating of Wi-Fi and navigation map data in the car is realized.
In terms of price, the hybrid version of the navigation-linked autopilot can achieve a minimum of 5.47 million yen (about 348,800 yuan). It is about 500,000 yen more than the existing car of the same class. Strive to sell more than 2,000 vehicles in the first year.
---
Post time: Jul-19-2019